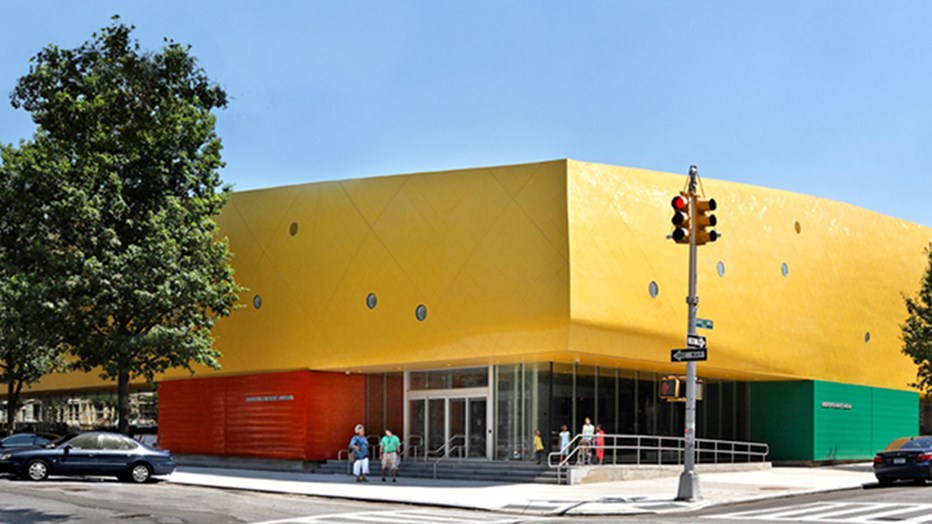 Welcome to the 2023 Brooklyn Borough Arts Festival - Visual Arts Submission Form.
The opening reception for the 9th Annual Brooklyn Borough Visual Arts Festival is Tuesday, May 23, 2023 at the Brooklyn Children's Museum.
The theme of this year's exhibition is "IMAGINE IF…" Ideas can vary and please go wild! Some examples could be but not limited to:
Imagine if a new city was created
Imagine a new school building
If you could be any three animals, what would you be
Imagine a different ending to a fairy tale
Submission Deadline: Friday, February 10, 2023 at 11:59 PM.
Imagine If student exhibition will be on display at the Brooklyn Children's Museum from Tuesday, May 23rd to Sunday, June 11th.
Address:
145 Brooklyn Ave
Brooklyn, NY 11213
Museum Hours:
Wednesday, Thursday, Friday, Saturday, Sunday: 10am -5pm
Closed Mondays and Tuesdays
GUIDELINES
Accepting visual artwork from students in Brooklyn public schools, grades Pre-K through 12
Submit ONE APPLICATION PER ARTWORK. Each art teacher may submit up to (3) student artworks, but must complete one application before starting another. Artworks do not have to come from the same class or grade level.
Artwork should represent the best student work produced in classrooms this academic year.
Please refer to the grade appropriate Blueprint Benchmarks to help you guide decision-making regarding submission choices.
Incomplete submissions will NOT be considered.
Please ensure the work you are submitting to the festival is not duplicate artwork submitted to PS Art. You must submit different works to each exhibition.
ARTIST QUESTIONS
Please have your students answer one or all of the questions below as thoughtfully as possible. Their response will be included in a catalog of artwork from the festival and will be distributed to students, teachers, and principals.
What did you imagine when creating this artwork?
What did you imagine when creating this artwork?
What do you want people to take away from your work?
SELECTION
A panel of art educators will adjudicate the submitted artwork.
Due to space limitations, it is not possible to guarantee representation of every school.
The committee will do its best to ensure equitable representation among all Brooklyn districts.
Teachers will be notified by early March 2023 with further instructions for artwork drop-off.
MEDIA AND SIZE LIMITATIONS
2-D artwork must fit standard size frames: 8"x10", 9"x12", 11"x14", 16"x20" or 18"x24"
3-D artwork must not exceed 20 lbs
Film works are accepted! Films can be uploaded directly to the application or shared by a link to the online video.
MEDIA CONSENT FORMS
Student's work that is accepted must have a media consent form to participate in the Brooklyn Borough Arts Festival. Media Consent forms are here for you to download and/or make copies. Media consent forms are only needed for ACCEPTED artwork.
For submission to the Brooklyn Performing Arts Festival in DANCE, MUSIC and THEATER, please visit the 2023 Brooklyn Borough Performing Arts Application.
If there are any questions please contact Claire Tomes at CTomes@schools.nyc.gov
For technical support, please email support@submittable.com.



Welcome to the P.S. Art 2023 Online Submission Form

P.S. Art acknowledges, through an exhibition and catalogue, artwork created by New York City public school students in grades pre K to 12. More than a competition, P.S. Art is an opportunity to build our visual arts community by reflecting on the qualities of exemplary teaching and learning. Final selections highlight outstanding artwork by our students and model practices of their teachers as they relate to the Blueprint for Teaching and Learning in Visual Arts. This is our 21st PS Art exhibition, and our 16th at The Metropolitan Museum of Art.

Once again, the application includes space for you to describe for the judges, any special conditions under which the artwork was created.

All submissions MUST be original work.
Works must be entered by a teacher. Submissions entered by students or parents will not be considered.
Complete this form once for each work you wish to enter in the competition
Please have one (1) high-resolution jpeg image file of the student artwork ready to upload. (For 3-D works, you may upload up to three (3) images)
Answer all questions accurately with correct spelling and grammar.
You can return to your application if you cannot complete it in one sitting. Save your submission in progress and to return to complete it before the deadline.
Incomplete submissions will not be considered
Important Note- you are invited to enter work into P.S. Art and into your Borough Arts Festival, but the same artwork may NOT be submitted to both
Please use a PC/Mac to upload your submission.
iPads/tablets will not allow you to upload the digital image and you will not see all of the required questions!

For Complete Guidelines and More Information:
Visit to see complete guidelines document regarding the P.S. Art Call for Work 2023.

Deadline- Friday, February 17, 2023, 11PM EST